You have to drive through the town of Fredonia to get to Pipe Spring National Monument. I like to do the driving because I can cut over to the curb or pull a U-turn quick-like when I see something I want to take a photo of, instead of yelling out, Stop! NOW!!! and giving the HH a heart attack. So luckily I was behind the wheel when we went through Fredonia last week because I did execute one of those quick-like U-turns when I saw this store. Lotto. Guns. Ammo. Beer. I didn't go in; I just wanted the photo. What more could a girl ask for?
As I mentioned in an earlier post, Pipe Spring began as a tithing ranch for the Mormon church. In the 1870s, 80-100 cows were milked daily by the men and boys, which produced 60 pounds of cheese and 40 pounds of butter, churned out by the women. Daily! Twice a month a couple dozen steers were driven to St. George, Utah along with a load of cheese and butter. The men who worked on public roads and the St. George Temple and Tabernacle received shares of beef and the dairy products.
This particular site was chosen for the spring, of course, but also for the rangeland. At the time the grass extended for miles and was said to be belly-high on a horse. Later, years of drought and overgrazing reduced the land to desert scrub and it was no longer able to support cattle.
Anyone who's lived or visited in this part of the country knows that the wind blows and howls and whips sand into spaces that are not even visible. Before we left Petrified Forest I opened the windows during the early spring winds and found fine sand covering everything. It was no different for the women who lived at Pipe Spring. Emma Seegmiller, who lived at the fort in the 1890s, wrote:
After every storm, house cleaning was necessary and from a single room I have swept or shoveled out five gallons of sand, the broom would not carry the weighty bulk to the door.
The women were also responsible for providing food for not only their own families but cowhands and other workers, clean beds, and a welcome to all visitors. Laundry had so many steps it took all day. I have a nifty washer-dryer unit in my house, a single machine that does both functions, and is it handy! On the nice days we've been having here I hang the laundry outside, just like we did when we were kids. For me it's a choice, though, and I don't have to use washboards and wringers and boil water to do the washing first. I have such respect for pioneer women. They were strong and endured a life we can't imagine.
Part of a wagon wheel with an iron rim.
I was surprised that the garden wasn't up and producing. The Ranger who gave the talk about the place said they do grow crops there and visitors are welcome to help themselves, but there wasn't anything ready yet. I noticed squash blossoms behind the main house and at the entrance to the monument and immediately thought about the stuffed squash blossoms HH and I enjoyed at La Posada in Winslow,
but didn't ask if I could take any. I couldn't have kept them fresh on that long day we were on the road.
This is the main building, Winsor Castle. It's the living quarters and fort and is named for its builder, Anson Winsor.
I mentioned this cornerstone to the Ranger who gave the talk, but until I loaded the photo onto the computer, I'd forgotten that I never got an explanation of what's on there. Because of all of the carvings it looks like a miniature version of Inscription Rock that I saw at El Morro in February. That seems like ages ago.
The heavy doors open to a sunny courtyard. One of my must-haves, if I ever have a stationary house again, is a covered porch. These are perfect.
The gutters and downspouts are copper but are not the original. This was a really nice place and HH and I both thought it would be an easy house to live in.
One of two cabins outside the fort.
This plaque notes the award of National Monument status and honors Stephen Mather, considered the father of the National Park Service. What I didn't know until not long ago is that Presidents can name National Monuments but it takes an act of Congress to name National Parks. You can see the sign calls the place Pipe Springs, but the NPS calls it Spring.
According to an NPS webpage, Pipe Spring became a refuge for Mormon wives running from the feds in Utah:
With the passing of more strict anti-polygamy laws in the early 1880s, the federal government tripled the number of U.S. Marshals in Utah and began a campaign to convict men practicing polygamy. Pipe Spring became a refuge for wives of targeted Southern Utah men, since it was located across the territorial line in Arizona. Flora Woolley, second wife of Edwin D. Woolley, said of her move to Pipe Spring, "

So about the year 1886, I moved to Pipe Spring. In other words, I went to prison to keep my husband out.

"
A photo from the same webpage, taken in 1891: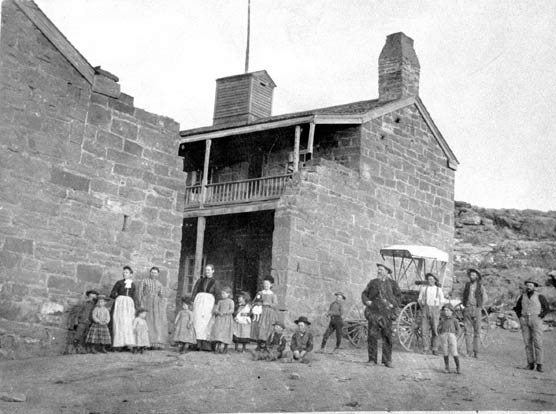 According to the plaque above, the telegraph line is
reconstructed

but the first was installed in 1871. As time went on Pipe Spring became, in addition to a women's hiding place, a resting place, a watering hole, and a telegraph café.
Using the juniper at hand, the poles were set 70 feet apart. The telegraph line that passed through Salt Lake City inspired Brigham Young to plan a church-owned communication network. After the Civil War, the price of surplus telegraph materials dropped enough to make it affordable to install. (The Park Service posts the best interpretive signs and between them and Wikipedia I don't have to know anything; I just look it up.)

For 17 years in the late 1800s, at least seven women were employed to work the telegraph. They apparently didn't last long because it was considered a 24-hour job. Their bedroom was the telegraph room and they weren't allowed to leave it to mingle with visitors to the castle.
In the 1930s

the CCC also had a presence here. They came to
clean out the tunnel spring, graded the campground area (which I think does not exist anymore), constructed a road through the monument on a new location, and other projects.
There is an amazingly detailed history on the NPS site, loaded with illustrations. For such a small site, this place has many stories to tell.
=======
Thought of the day:
A really strong woman accepts the war she went through and is ennobled by her scars.
- Carly Simon